VIVIO Brazil nuts - 1000g - Opis
Replace unhealthy snacks with natural ones
Improve your brain work
A tasty, crunchy delicacy
The source of healthy fatty acids

Brazil Nuts Vivio
For many people, crunching has become a habit that is difficult to fight, and in some cases has replaced other unhealthy habits such as eating sweets. No one needs to convince anyone that such a change is much more beneficial to our health. Brazilian Vivio Nuts are one of the most prized nuts in the world, their taste resembles almonds. In addition, they are a source of healthy fatty acids that affect the body to start processes that accelerate fat burning.
The healthiest nuts
Eating Brazil nuts improves the work of your brain, this is because they have a lot of polyunsaturated fatty acids. It is their content that positively affects the work of the eyes, heart, circulatory system and brain. It's not only a tasty snack, but also healthy little things. If you carry Brazil nuts with you, you will not feel the temptation to buy a candy bar in the shop. Thus you will not break the diet and you will not eat empty calories.
Vivio nuts can be eaten not only as an appetizer, they give you many different possibilities in the kitchen. They are perfect as a component of salads, they are also suitable for making butter from them, and they also fit into spicy spices and dishes. After baking, they diversify the taste of cakes and pastries, they are also suitable for thickening the stuffing, which is then gained on discreet sweetness. They also perfectly combine with cheeses and light salads of all kinds. If you do not like to prepare anything complicated, and you care about incorporating these nuts into your diet, simply add them to the breakfast cereal!
How are Brazil nuts growing?
Few people know that Brazil nuts are the seeds of a haughty aristocrat, a tree that grows in the Amazon rainforest. In Brazil, they are sometimes called Brazilian gold - due to their characteristic appearance. Its fruits resemble a coconut, which is cut with a machete, the seeds are extracted from it, then dried in the sun and husked. Eating Brazilian Vivio Nuts, you know that by using this treat you have a positive effect on the nervous system, improve concentration and reduce stress.
Cocktail made of brazil nuts
A handful of brazil nuts
Homogenized cheese (150g)
150 ml of milk
1 tablespoon of coffee
2 teaspoons of vanilla sugar
Cocoa
Nuts grind in a mill, dissolve coffee in milk. Pour nuts, coffee with milk, cream cheese and sugar into the blender, then blend everything. Serve topped with cocoa.
Better memory
Brazil nuts are not only a healthy snack, but also a wealth of unsaturated fatty acids, antioxidants and selenium. Their properties make them very good for the circulatory system and the condition of the heart. Certainly most people associate that, especially during intensive brain work - before graduation, exam or session, students, and anyone else is recommended to eat nuts. The Vivio product is ideally suited for this purpose because it facilitates memorizing and protects against stress.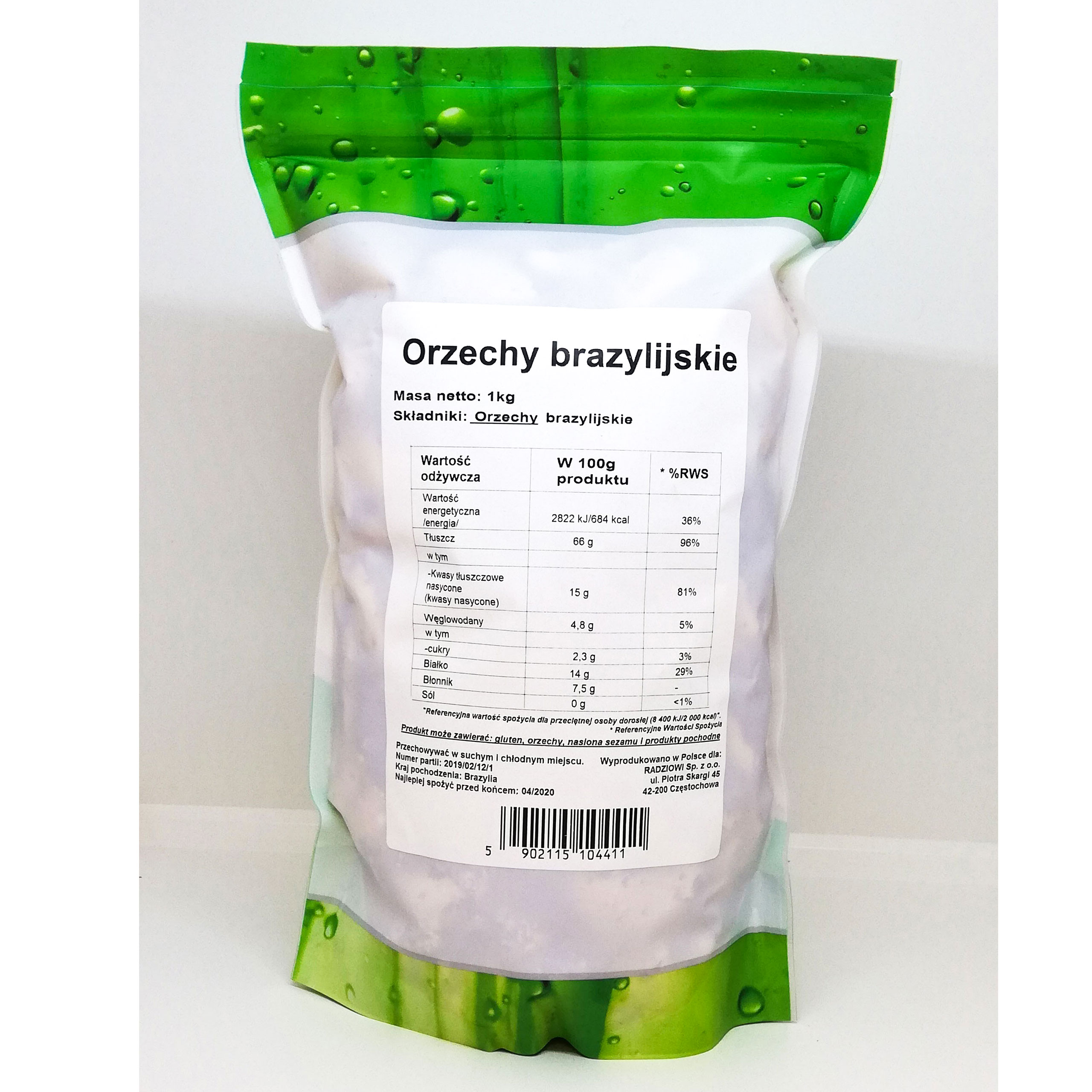 Ingredients: Brazil nuts
This product is not intended to diagnose, treat, cure or prevent any disease
| Nutritional value | 100g | **%NRV |
| --- | --- | --- |
| Energy value | 2822kJ/684kcal | 34% |
| Fat | 66g | 94% |
| including saturated fatty acids | 15g | 75% |
| carbohydrates | 4,8g | 2% |
| including sugars | 2,3g | 3% |
| Protein | 14g | 28% |
| salt | 0g | 0% |
*** The nutritional values given in the table may vary slightly depending on the lot. The site is constantly updated, however, it happens that we have several batches of product in stock.
** Reference intake value for an average adult (8400 kJ / 2000 kcal)
Directions for use: Use according to individual needs
Dietary supplements can not be used as a substitute for a varied diet. Remember that only a healthy lifestyle and balanced nutrition ensure proper functioning of the body and maintain good condition.
Do not exceed recommended servings for consumption during the day. The product can not be used by people who are allergic to any of its components. Keep out of the reach of small children. Store in a dry place at room temperature in tightly closed containers.
Best before end: date and batch number is on the side / bottom of the package.
Net weight: 1000g
VIVIO Brazil nuts - 1000g - Składniki
VIVIO Brazil nuts - 1000g - Dawkowanie
VIVIO Brazil nuts - 1000g - Opinie
UWAGA - kopiowanie oraz rozpowszechnianie opisów jest zabronione przez Muscle Power © 2018. Ustawa z dnia 4 lutego 1994 r. o prawie autorskim i prawach pokrewnych (Dz. U. z 2006 r. Nr 90, poz. 631 z późn. zm.)