SWANSON Apple Cider Vinegar 200mg - 30tabs. - Opis
It helps to get rid of unnecessary kilograms
It causes a feeling of fullness
It slows the absorption of sugars
As much as 200 mg of apple cider vinegar in each tablet!

Swanson Apple Cider Vinegar 200mg
The Swanson dietary supplement is especially popular among nutritionists because it will help benefit its use to almost everyone. Thanks to a specially developed formula, it has the advantages of pure apple vinegar in a handy tablet form. For this, each serving is up to 200 mg of apple cider vinegar, that is, from each of them flows double power!
Lose weight with apple cider vinegar
All people who try to lose weight on their way encounter numerous difficulties. One of them may be, for example, that their weight stands, sometimes it is hard to say for what reason. By using apple cider vinegar you will help yourself to lose unnecessary kilograms. Why is it necessary for you? Because it boosts the burning of body fat, thanks to which we will get rid of it faster, and who would not like us like that ?! It also speeds up digestive processes and makes metabolism run more efficiently, thanks to Apple Cider Vinegar.
By using apple cider vinegar from Swanson, you also make your appetite during the day much smaller! Thanks to the regular use of Apple Cider Vinegar it will be easier to lose unnecessary kilograms than ever before. Stop envying her friends and join the group of people whose silhouette can not be faulted! From now on everyone will look at you with admiration.
Tablets with apple vinegar tend to be safer to use than classic apple vinegar, because they retain its properties and do not irritate the stomach. All those who have a problem with this body should be grateful! It is worth investing in a dietary supplement that will help you achieve your dream goals and results. Thanks to this measure, not only your appetite will be smaller, but the burning of meals much faster.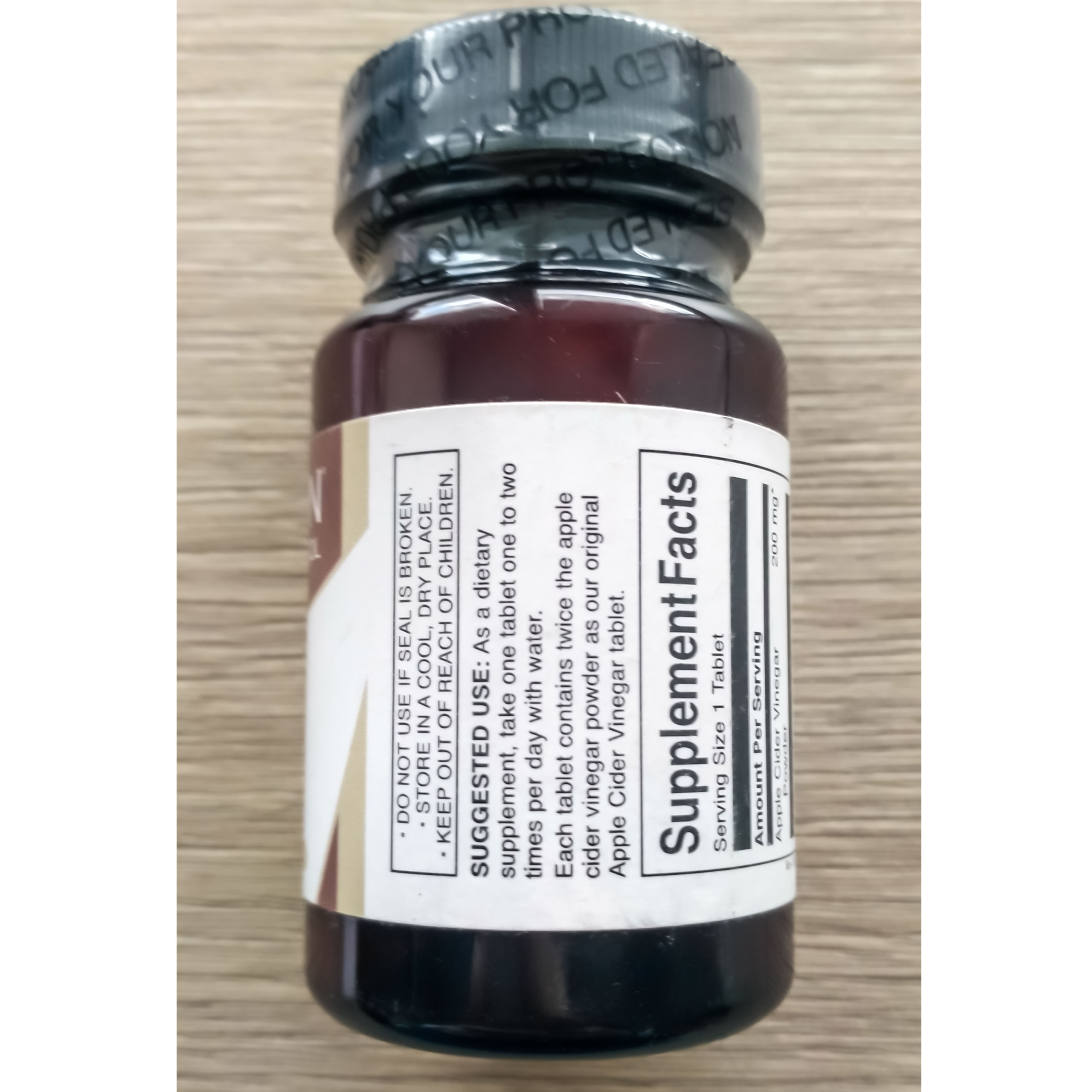 Bleeding the body
If you struggle with gas, diarrhea, constipation, and you get inflammation, you have problems with memory and you, you start to pay more attention to what is causing this condition. All these ailments can lead to serious health problems, as well as a stressful lifestyle and being in a constant run. The cause of all this can be acidification of the body - which can lead to infection, disease, inflammation, and even lack of energy and nausea. The use of Apple Cider Vinegar will increase the pH level to its natural state, making it easier to fight germs and ailments.
Digestion
Apple cider vinegar is also a well-known remedy for digestion. This is due to its properties that stimulate the secretion of digestive enzymes, which helps indigestion. Thanks to Apple Cider Vinegar you will get rid of this unpleasant ailment which has so far made your life difficult.
Serves: 1tab
Servings per container: 30
Packaging: 30tabs
Ingredients: Other ingredients: calcium carbonate, microcrystalline cellulose (vegetable fiber), maltodextrin, dicalcium phosphate, stearic acid, magnesium stearate, gum arabic, purified water, hydroxypropylmethylcellulose, vegetable glycerin, croscarmellose sodium, silica
This product is not intended to diagnose, treat, cure or prevent any disease
| Active ingredients | 1 tabs |
| --- | --- |
| Apple cider vinegar powder | 200mg |
*** The nutritional values given in the table may vary slightly depending on the lot. The site is constantly updated, however, it happens that we have several batches of product in stock.
** Reference intake value for an average adult (8400 kJ / 2000 kcal)
Directions for use: 1 tablet, 1-2 times a day with water
Dietary supplements can not be used as a substitute for a varied diet. Remember that only a healthy lifestyle and balanced nutrition ensure proper functioning of the body and maintain good condition.
Do not exceed recommended servings for consumption during the day. The product can not be used by people who are allergic to any of its components. Keep out of the reach of small children. Store in a dry place at room temperature in tightly closed containers.
Best before end: date and batch number is on the side / bottom of the package.
Net weight: 30tabs
SWANSON Apple Cider Vinegar 200mg - 30tabs. - Składniki
SWANSON Apple Cider Vinegar 200mg - 30tabs. - Dawkowanie
SWANSON Apple Cider Vinegar 200mg - 30tabs. - Opinie
UWAGA - kopiowanie oraz rozpowszechnianie opisów jest zabronione przez Muscle Power © 2018. Ustawa z dnia 4 lutego 1994 r. o prawie autorskim i prawach pokrewnych (Dz. U. z 2006 r. Nr 90, poz. 631 z późn. zm.)