EXTRIFIT Multi Mineral Chelate - 90caps. - Opis
A complex of 6 minerals in each serving!
Convenient form of capsules
It supports the maintenance of the proper functioning of the body
Cheated form of minerals ensuring better absorption
Extrifit Chelate 6 Multi Mineral
You take care of your well-being every day and try to regularly supplement vitamins and minerals? Your diet is balanced, but you realize that the amount of vitamins and minerals you get may not be enough? Use a regular dietary supplement from the well-known Czech brand Extrifit Chelate 6 Multi Mineral, supplying you up to 6 minerals! Chelated form provides you with excellent bioavailability, and thus use them in your body!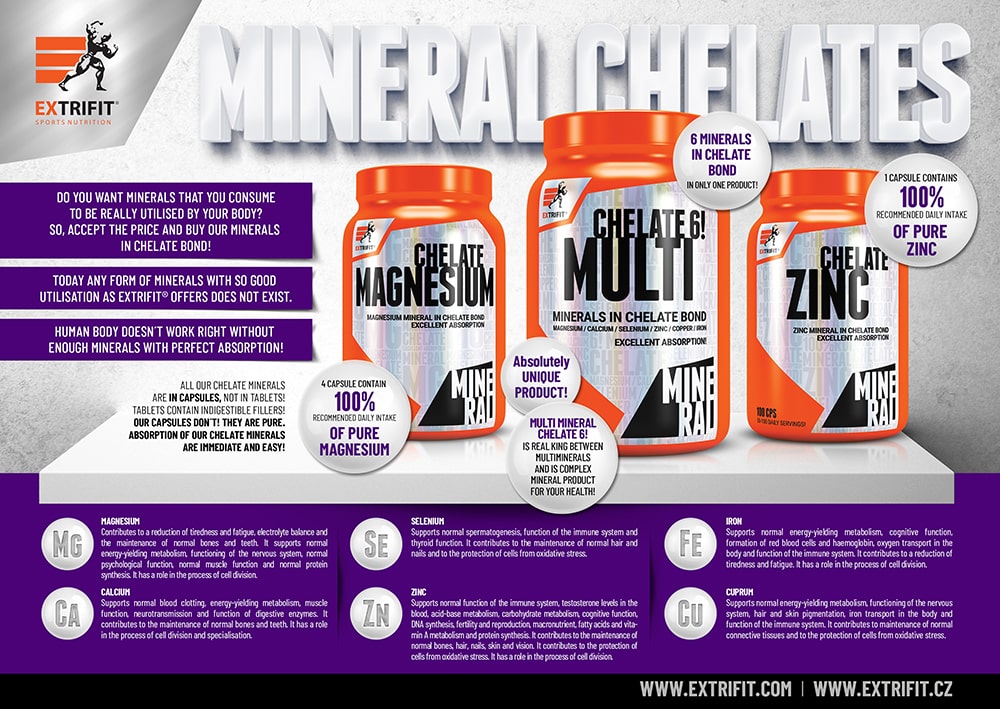 Minerals - Properties and sources
In order to feel good and enjoy the good condition of your body every day, you need to remember about solid supplementation of vitamins and minerals. Of course, many of them you provide along with food, while a large part of them are found in too small amounts of food products. This leads to a situation in which it may turn out that there are insufficient amounts in your body. A shortage of minerals can lead to deterioration of your whole body's condition and deterioration of well-being.
The minerals contained in the diet supplement from Extrifit support your body in a comprehensive way. In each capsule you will find as many as 6! Calcium, magnesium, iron, zinc, selenium and copper. It is not an accidental set of active substances - they are designed to effectively support the functioning of your body in a multifaceted manner. Calcium supports the health of bones and teeth, helps in the proper functioning of the muscles; selenium helps to protect cells against oxidative stress and contributes to the normal course of spermatogenesis; zinc is a substance that helps maintain the proper level of testosterone in the blood and contributes to the proper functioning of the immune system while magnesium helps in the proper functioning of the nervous system and supports you in the fight against painful muscle spasms.
These are just a few of the properties that exhibit these minerals, but you can see for yourself that it is a supplement whose comprehensive composition will effectively support you in maintaining the functioning of your body at the appropriate level. Regardless of whether you are an athlete or simply want to take care of your health better than before - regular use of the Chelate 6 Multi Mineral diet supplement from Extrifit will definitely help you achieve it!
Chelated minerals
Taking minerals with food is not necessarily and will not always be as easy as it may seem. Minerals present in food are often poorly absorbed by your body - for this reason, even by consuming large amounts of products rich in these substances, you can not guarantee that they will be appropriately assimilated.
The process of chelating a substance involves the combination of a mineral particle with two amino acid particles. In this way, the elements in the inorganic form are transformed into a form with much better bioavailability - organic. Chelated minerals are well absorbed by your body, thanks to which it can lower the dose you enter into your body - a smaller amount of chelated substances works similar to a large amount of minerals in an inorganic form.
The chelation process is not only an improved assimilation of minerals but also the certainty that they will be properly used in your body, as well as their excess will be removed more effectively. Thanks to this property, you protect your body against the negative effects of too much minerals. These substances in insufficient quantity lead to a reduction in the condition of your body, but you must remember that too much is also not recommended. The chelated minerals come with the help.
Portion: 3caps
Servings per container: 30
Packaging: 90caps
Ingredients: calcium bisglycinate, magnesium bisglycinate, iron bisglycinate, zinc bisglycinate, selenomethionine bisglycinate, copper bisglycinate.
Other ingredients: capsule (gelatin, natural dye: titanium dioxide, mineral pigment: red iron oxide, natural glazing substances: shellac), anti-caking agent: magnesium stearate
| Nutritional values | in 3caps |
| --- | --- |
| Energy value | 7kJ / 2kcal |
| Fat | 0g |
| Saturated fatty acids | 0g |
| carbohydrates | 0g |
| sugars | 0g |
| roughage | 0g |
| Protein | 0,4g |
| salt | 0g |
| Active ingredients |   |
| Calcium (calcium bisglycinate) | 400mg (50%**) |
| Magnesium (from magnesium bisglycinate) | 187,5mg (50%**) |
| Iron (from iron bisglycinate) | 7mg (50%**) |
| Zinc (from zinc bisglycinate) | 5mg (50%**) |
| Selenium (from selenomethionine bisglycinate) | 27,5μg (50%**) |
| Copper (copper bisglycinate) | 500μg (50%**) |
*** The nutritional values given in the table may vary slightly depending on the lot. The site is constantly updated, however, it happens that we have several batches of product in stock.
** Reference intake value for an average adult (8400 kJ / 2000 kcal)
* Ingredients, grammage and nutritional values may vary slightly depending on the flavor variant of the product.
Directions for use: Use 3caps a day, one in the morning, one at noon and one in the evening, with meals. Drink with the right amount of liquid.
Dietary supplements can not be used as a substitute for a varied diet. Remember that only a healthy lifestyle and balanced nutrition ensure proper functioning of the body and maintain good condition.
Do not exceed recommended servings for consumption during the day. The product can not be used by people who are allergic to any of its components. Keep out of the reach of small children. Store in a dry place at room temperature in tightly closed containers.
Best before end: date and batch number is on the side / bottom of the package.
Net weight: 90caps
EXTRIFIT Multi Mineral Chelate - 90caps. - Składniki
EXTRIFIT Multi Mineral Chelate - 90caps. - Dawkowanie
#Name

:

Multi Mineral Chelate - 90caps.

Data Ważności

:

2021-12-20

W kartonie

:

67



EXTRIFIT Multi Mineral Chelate - 90caps. - Opinie
UWAGA - kopiowanie oraz rozpowszechnianie opisów jest zabronione przez Muscle Power © 2018. Ustawa z dnia 4 lutego 1994 r. o prawie autorskim i prawach pokrewnych (Dz. U. z 2006 r. Nr 90, poz. 631 z późn. zm.)