EXTRIFIT Magnesium Chelated - 120caps - Opis
Better concentration
Good memory
Great mood
Helmeted form of magnesium
Are you looking for easily absorbable magnesium?
On the Internet, in television and in newspapers, we are bombarded with a multitude of information on magnesium intake. Most sources agree that magnesium is extremely needed, and in a speeding world more and more people should think whether they need to consume it. Of course, there are voices saying that it is also found in food products, but who has the time to count how many buckwheat, soy or white beans eaten a day? Who among us calculates when and whether he satisfied his demand for this element? Who has time to think about all this?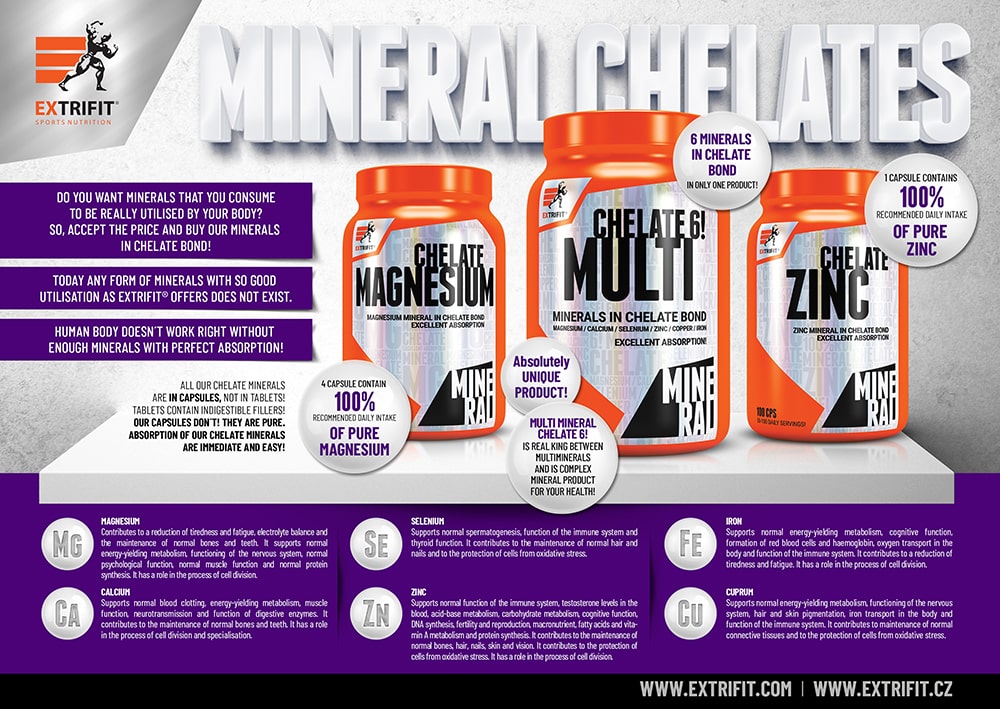 Chelated
preparations provide us with the necessary elements to the body without the danger of overdose and subsequent intoxication.
Mineral elements are characterized by the fact that if they are taken in the right proportions have health properties, and when we miss them we can feel a decisive decline in fitness, as well as our mood may deteriorate, in turn, taking too many of them can lead directly to poisoning the body.
That is why it is so important to deliver them to the body in the right proportions.
In Magnesium Chelated, the chemical elements called chelates take care of a stable and safe level of magnesium in the body.
During the chemical process, they transform the element in inorganic form into a form that is absorbed by our organism, that is, an organic form.
They are also responsible for how quickly absorbed, transported and removed this element.
What gives you magnesium?
Magnesium helps in maintaining electrolyte balance
Magnesium helps in maintaining healthy teeth
Magnesium helps in maintaining healthy bones
Magnesium contributes to maintaining proper energy metabolism
Magnesium helps in the proper functioning of muscles
Magnesium helps in the proper functioning of the nervous system
Magnesium contributes to the reduction of tiredness and fatigue
Magnesium helps in maintaining normal psychological functions
Magnesium helps in the proper synthesis of protein
Magnesium plays a role in the process of cell division
Magnesium Chelated or chelated magnesium for you
When we hear the name of the Czech company Extrifit, we should immediately direct our thoughts to the high quality of their products, which are not only characterized by modern design, but which have also been rewarded several times. Most importantly, they are holders of the HACCP certificate! It is granted only to companies that guarantee very high quality of products in accordance with the current FAO / WHO requirements. The company Extrifit decided to release its magnesium, which is to constitute the most complex dose of this element. Through its versatile approach to the theme, it is suitable for everyone. Chelated minerals are released only when the body needs them, otherwise they are removed from the body.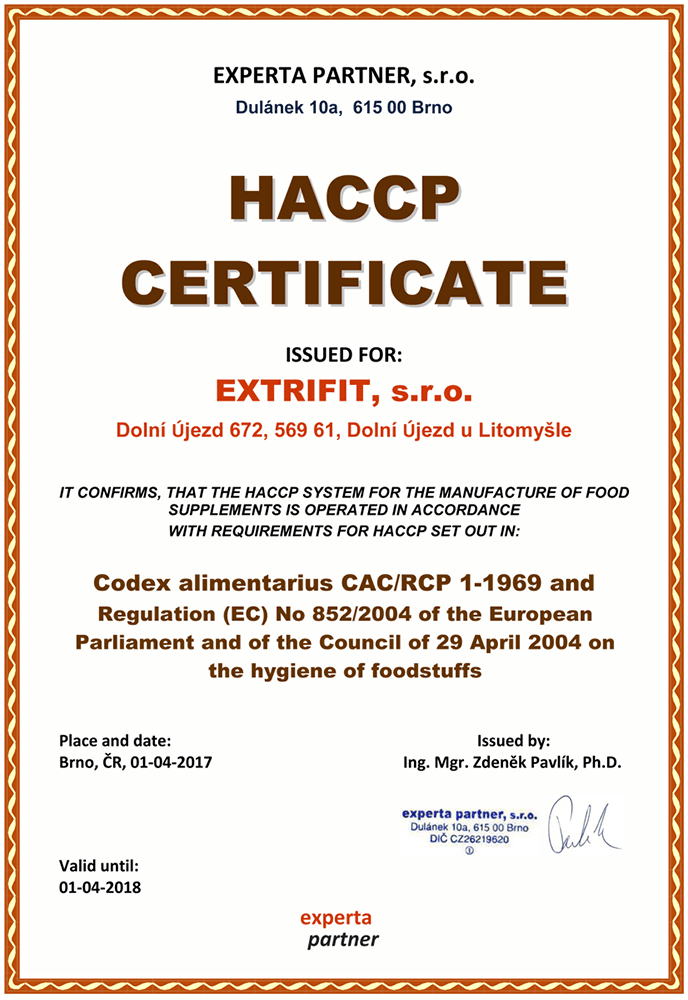 Magnesium deficiencies are a common occurrence, most often based on unbalanced nutrition: too high supply of coffee, sugars, fats or alcohol. It is worth knowing that if there are problems with the functioning of the kidneys or inflammatory conditions of the intestine, the absorption of magnesium may deteriorate. Magnesium deficiency manifests itself in various ways, contributing to abnormalities and weakening of the heart, as well as excessive muscular-nervous excitability.
How do you know that you need magnesium?
How can you know that you need magnesium? If you notice one or more of these ailments, this may be an indication that you need magnesium:
Does your eyelid vibrate?
Do you have restless legs syndrome?
Do you have painful cramps in your calves?
Do you have problems concentrating?
Sleep disorders appeared?
Are you accompanied by migraines?
Sometimes palpitations occur?
Ingredients: magnesium bisglycinate. Other ingredients: carrier: maltodextrin, capsule (gelatin, natural dye: titanium dioxide, mineral pigment: red iron oxide, natural glaze: shellac), anti-caking agent: magnesium stearate.
Serving: 1-4caps.
Servings per container: 30-120
Packaging: 120caps.
| Nutritional values | 1caps |   |
| --- | --- | --- |
| Energy | 4kJ/1kcal |   |
| Fat | 0g |   |
| saturated fatty acids | 0g |   |
| Carbohydrates / sacharidy | 0,2g |   |
| Sugars | 0g |   |
| Fiber | 0g |   |
| Protein | 0,1g |   |
| Salt | 0g |   |
|   |   |   |
| Nutrients | 1caps | 4caps |
| Magnesium | 94 mg | 376 mg |
| (source magnesium bisglycinat) | 25%** | 100%** |
*** The nutritional values ​​given in the table may vary slightly depending on the lot. The site is constantly updated, however, it happens that we have several batches of product in stock.
** Reference intake value for an average adult (8400 kJ / 2000 kcal)
* Ingredients, grammage and nutritional values ​​may vary slightly depending on the flavor variant of the product.
Directions for use: Use 1 to 4 tablets daily with a generous amount of water. Their application should be evenly distributed over time.
Dietary supplements can not be used as a substitute for a varied diet. Remember that only a healthy lifestyle and balanced nutrition ensure proper functioning of the body and maintain good condition.
Do not exceed recommended servings for consumption during the day. The product can not be used by people who are allergic to any of its components. Keep out of the reach of small children. Store in a dry place at room temperature in tightly closed containers.
Best before end: date and batch number is on the side / bottom of the package.
Net weight: 120caps.
EXTRIFIT Magnesium Chelated - 120caps - Składniki
EXTRIFIT Magnesium Chelated - 120caps - Dawkowanie
#AVG

:

5

#Name

:

Magnesium Chelated - 120caps



EXTRIFIT Magnesium Chelated - 120caps - Opinie
UWAGA - kopiowanie oraz rozpowszechnianie opisów jest zabronione przez Muscle Power © 2018. Ustawa z dnia 4 lutego 1994 r. o prawie autorskim i prawach pokrewnych (Dz. U. z 2006 r. Nr 90, poz. 631 z późn. zm.)