EXTRIFIT 100% Instant Whey - 2000g - Opis
A powerful dose of protein in the form of WPC concentrate
With a full amino acid profile
It supports the growth of muscle mass and supports their regeneration
No added sugar and no unnecessary additives
Reduced fat and carbohydrate content
100% Instant Whey - Instant protein
Do you care about the rapid and effective increase in muscle mass? Do you exercise a lot and want your muscles to grow with each workout? You must provide yourself with support in the form of an additional portion of proteins! Choose the best set offered by the renowned company Extrifit - along with a large dose of pure whey protein concentrate you get an additional full amino acid profile, including branched chain amino acids BCAA supporting the maintenance of regenerative processes at the appropriate level! Use regularly and improve the results achieved in the gym!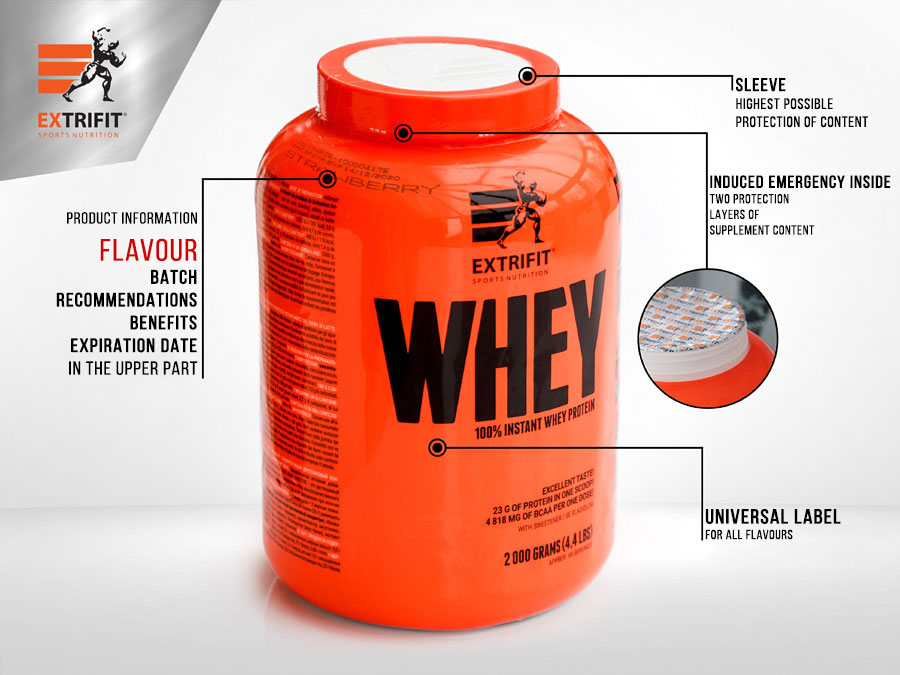 Protein - Muscle building
As an athlete and a person who is trying to work out a nice sculpture, you definitely care about a balanced and healthy diet. Sometimes, however, it may turn out that by taking care of the proper caloric balance of eaten dishes, you can not provide your body with a sufficiently high dose of proteins that are the basic building blocks of your muscles! The protein not only helps you build muscle, but also protects against catabolism!
In every serving of protein supplement from the well-known and appreciated Extrifit company in the world, you will find a powerful dose of protein, which greatly enriches your diet with a component important for you! In addition, it is worth knowing that choosing a conditioner 100% Instant Whey you decide on a conditioner with a high content of whey protein concentrate. This fraction is a version of proteins purified from unnecessary amounts of carbohydrates and fats - this is achieved thanks to the microfiltration process. The minimum amount of fat remaining in WPC causes the conditioner to gain additional flavor values, while providing a large dose of pure protein to your body.
100% Instant Whey from Extrifit is a protein supplement that provides you not only to supplement your diet with a decent portion of protein but above all it will provide you with ease in its preparation! Instant version means that it dissolves sensationalally so you do not have to spend more than just a moment to prepare this tasty and above all nutritional supplement!
Amino acids - Regenerative properties
Lots of training and wanting to solidly expand your muscle tissue, you need to remember not only about the right amount of protein and a balanced diet with a high dose of exercise, but also about ensuring the proper functioning of regeneration processes! For this purpose, you will also find a large amount of extremely important and essential amino acids in your protein supplement, including branched chain amino acids (BCAA).
BCAA amino acids, or leucine, isoleucine and valine are substances that support you in maintaining the correct regenerative processes of your muscles. This is extremely important in particular for people who do a lot of exercise and whose muscles are damaged more often than others. Branched Chained Amino Acids - that is BCAA are exogenous amino acids - that means that your body is unable to produce them on its own. For this reason, it is very important to secure a sufficiently large number of them.
Not only BCAAs will be important to you - 100% Instant Whey will also find substances such as glutamic acid that improves the transport of nitrogen to the organs that need it, arginine, which helps maintain proper nutrition of your muscles by improving blood flow. Better nutrition of your muscles will also provide you with the effect of the so-called muscle pump - they will not only be visually more powerful but will also increase the actual strength!
There is no point in waiting and looking for a conditioner that will help you achieve better results during demanding training! Invest in a product that is offered to you by the world-renowned company Extrifit. Supplement 100% Instant Whey will support you not only in building muscle tissue, but also will provide you with a decent dose of branched chain amino acids BCAA so that even better than before you take care of their regeneration! Use regularly and see that you'll never need anything else!
Serving size: 30g
Servings per container: 66
Packaging: 2000g
Other ingredients: Instant WPC (whey protein concentrate), fat-free cocoa (for chocolate, chocolate-coconut and tiramisu flavor), aroma, thickener: carboxymethylcellulose, natural pigment: beta-carotene (for banana flavor), red beet extract (for taste) strawberry and blueberry), sweetener: sucralose
| Nutritional values | in 100g | in serving (30g) |
| --- | --- | --- |
| Energy value | 1625kJ / 387kcal | 488kJ / 116kcal |
| Fat | 5,3g | 1,6g |
| of which saturated fatty acids | 3,4g | 1,0g |
| carbohydrates | 9,0g | 2,7g |
| including sugars | 4,7g | 1,4g |
| roughage | 1,7g | 0,5g |
| Protein | 75g | 23g |
| salt | 0,88g | 0,26g |
| Typical Amino Acid Profile |   |   |
| alanine | 3678mg | 1103mg |
| arginine | 1801mg | 540mg |
| Cysteine | 1727mg | 518mg |
| glycine | 1276mg | 383mg |
| histidine | 1351mg | 405mg |
| Aspartic acid | 8105mg | 2432mg |
| Glutamic acid | 13359mg | 4008mg |
| lysine | 6829mg | 2049mg |
| methionine | 1576mg | 473mg |
| phenylalanine | 2327mg | 698mg |
| isoleucine | 4428mg | 1329mg |
| leucine | 7806mg | 2342mg |
| valine | 3827mg | 1148mg |
| BCAA Total | 16061mg | 4818mg |
| proline | 4428mg | 1329mg |
| serine | 3678mg | 1103mg |
| threonine | 5329mg | 1599mg |
| tryptophan | 1351mg | 405mg |
| tyrosine | 2176mg | 653mg |
| Total amino acids | 75053mg | 22516mg |
*** The nutritional values given in the table may vary slightly depending on the lot. The site is constantly updated, however, it happens that we have several batches of product in stock.
** Reference intake value for an average adult (8400 kJ / 2000 kcal)
* Ingredients, grammage and nutritional values may vary slightly depending on the flavor variant of the product.
Instructions for use: Mix 1 scoop (30 g) with 220 ml of water. Apply twice a day.
Dietary supplements can not be used as a substitute for a varied diet. Remember that only a healthy lifestyle and balanced nutrition ensure proper functioning of the body and maintain good condition.
Do not exceed recommended servings for consumption during the day. The product can not be used by people who are allergic to any of its components. Keep out of the reach of small children. Store in a dry place at room temperature in tightly closed containers.
Best before end: date and batch number is on the side / bottom of the package.
Net weight: 2000g
EXTRIFIT 100% Instant Whey - 2000g - Składniki
EXTRIFIT 100% Instant Whey - 2000g - Dawkowanie
Wariant

:

Vanilla [eng]

#AVG

:

5



EXTRIFIT 100% Instant Whey - 2000g - Opinie
UWAGA - kopiowanie oraz rozpowszechnianie opisów jest zabronione przez Muscle Power © 2018. Ustawa z dnia 4 lutego 1994 r. o prawie autorskim i prawach pokrewnych (Dz. U. z 2006 r. Nr 90, poz. 631 z późn. zm.)