REAL PHARM Creatine Monohydrate - 500g - Opis
The most important advantages of Creatine Monohydrat

e
The highest quality 100% Creatine monohydrate
economical packaging - 100 servings
the serving contains 4356 mg pure Creatine
additionally contains taurine
rapid regeneration of ATP
huge increase in strength
awesome hydration of cells
enhances the anabolic environment
product REAL PHARM is used by professional bodybuilders and MMA fighters
One of the best Creatine Monohydrates
Creatine Monohydrate companies REAL PHARM twith the highest quality creatine monohydrate, containing one hundred percent the most digestible and the most popular form of creatine. It is a very important source of energy for people practicing sports. The basic features are the rapid volumization of the muscle cell and the anabolic environment necessary for growth.Product REAL PHARM  guarantees an increase in strength and dynamics, and also contributes indirectly to building lean body mass. This monohydrate allows to increase the intensity and volume of training. It hydrates and enlarges muscle cells, creating them an appropriate environment for anabolic growth, additionally beneficial to the well-being and regeneration of the entire body. The advantage is an economical packaging that contains 100 individual portions of the product, which will suffice for the standard full creatine cycle.
Ingredients of creatine REAL PHARM - Creatine Monohydrate 
The supplement contains only the highest quality Creatine Monohydrate with the addition of a bit of Taurine (50 mg per serving) - an ingredient that enhances bioavailability and transports creatine compounds. One serving is up to 4950 mg of Creatine Monohydrate, of which 4356 mg is a pure Creatine molecule. Flavor versions may contain added flavors and sweeteners. 
Creatine Action and Functions
You can find out more about how Creatine works in the article on the Blog Muscle Power. Creatine is a chemical compound that plays an important role in energy transformation at the cellular level. The body is able to synthesize creatine itself, which in the body transforms into creatine phosphate. It is the basic source for the regeneration of cellular ATP (adenosine triphosphate - a specific energy store), which in turn is responsible for providing the "fuel" needed for muscle contraction. The energy required for the ATP resynthesis is produced as a result of the breakdown of phosphocreatine. Adequate supply of creatine supplements undoubtedly accelerate this process. This has an impact on the increase in intensity of training and training load.
it increases strength
improves efficiency
improves muscle recovery
supports brain function and memory
antioxidant activity
protection of cellular mitochondria
hydration and nutrition of cells
muscle pump feeling
Dosage of Creatine Monohydrate
Creatine monohydrate, called by some creatine monohydrate, is the most common and the cheapest form of creatine.
This compound contains about 88% pure Creatine, the rest of the molecule is water.
Creatine is best supplemented in combination with a balanced diet, hydration and strong training.
The greatest effects are achieved by athletes in disciplines where the trainings are as intense as possible - adepts of strength, endurance and speed sports, such as: bodybuilding, powerlifting, sprinting or cycling.
Consumers dose creatine in two ways - with the saturation phase of the body and without the saturation phase.
Saturation phase - 0.3 g / kg body weight should be consumed initially for 3 -5 days.
Later, 3 - 5 g per day are taken.
Without the saturation phase, this method is much simpler.
It is 10 g creatine per day in two portions.
The best is 5 g before and 5 g after training on training days and 5 g on an empty stomach in the morning and the second portion - 5 g during the day on days without training.
The above description is a generalization.
Each manufacturer on the label of his product provides the exact dosage instructions.
In addition, it is worth mentioning that Insulin enhances the absorption of Creatine into cells, so you should pay attention to what is dissolving Creatine.
It is best to dissolve the supplement in carbohydrate beverages with an appropriate glycemic index, for example in grape juice.
Carbohydrates will provide insulin, which will increase the potency of creatine.
The effect of creatine and its transport to cells is also enhanced by Taurine found in the nutrient from REAL PHARM
.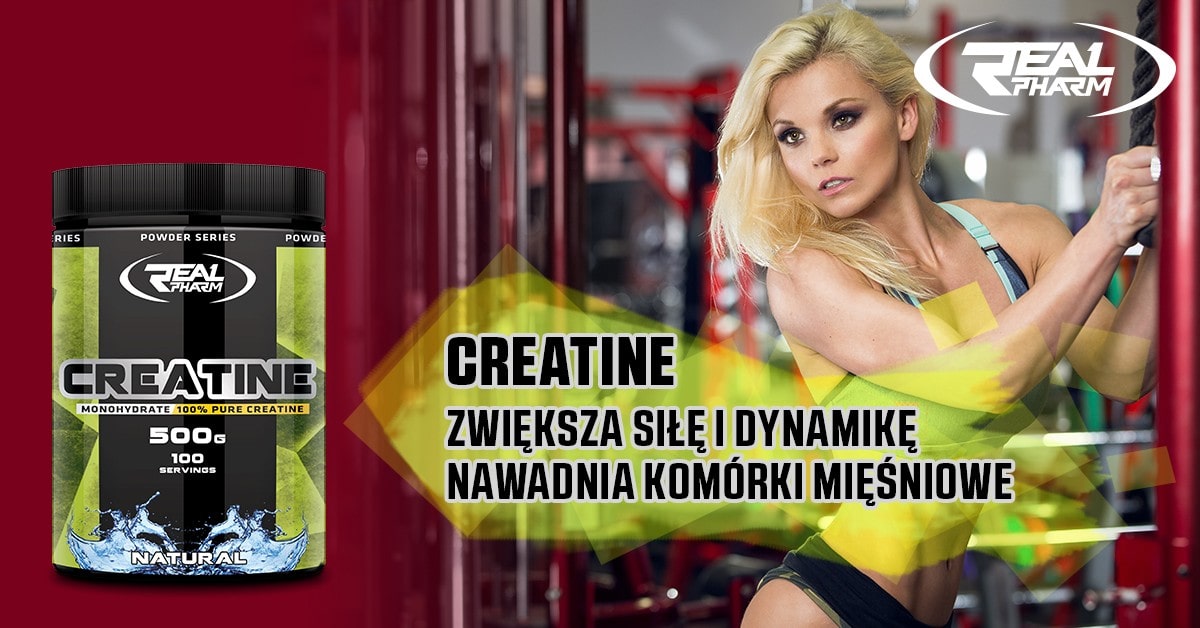 Serving size: 5g
Servings per container: 100
Packaging: 500g
Ingredients: Creatine monohydrate, aroma, acids - citric acid, malic acid, sweetener - sucralose, acesulfame K, anti-caking agent - silicon dioxide, flavors for flavors: lemon blackcurrant - black carrot extract, indigo, for flavors cherry, grapefruit, strawberry watermeleon - cochineal red, for the flavors of kiwi cactus, orange cactus - pistachio green, for ice fresh flavors, forest fruit - indigo, for flavors lemon, orange, pineapple, orange lemon, mango-pineapple - orange yellow, for the taste of mango macuja - yellow orange, b-carotene, for flavors raspberry strawberry, raspberry lemonade, cherry lemonade - cochineal, for the taste of fruit punch - cochineal red, beetroot extract, for lemon mint flavor - chlorophyllin, for cola flavors, cola lemon - caramel powder, for the taste of apple rhubard - red beet extract. Orange yellow can have a detrimental effect on activity and attention in children.
| Active ingredients | in one serving (5g) |
| --- | --- |
| Creatine monohydrate | 4300mg |
| in this Creatine | 3780mg |
** - Reference intake value for an average adult (8400 kJ / 2000 kcal)
* - Ingredients, grammage and nutritional values may vary slightly depending on the flavor variant and the product batch.
Once a day, consume one portion (5 g) of the product mixed with 200 ml of water or juice. Do not exceed a maximum of 1 portion of product per day.

Dietary supplements can not be used as a substitute for a varied diet. Remember that only a healthy lifestyle and balanced nutrition ensure proper functioning of the body and maintain good condition.

Do not exceed recommended servings for consumption during the day. The product can not be used by people who are allergic to any of its components. Keep out of the reach of small children. Store in a dry place at room temperature in tightly closed containers.

Best before end: date and batch number is on the side / bottom of the package.

Net weight: 500g
REAL PHARM Creatine Monohydrate - 500g - Składniki
REAL PHARM Creatine Monohydrate - 500g - Dawkowanie
Wariant

:

Orange

#Name

:

Creatine Monohydrate - 500g

Data Ważności

:

2021-10-31



REAL PHARM Creatine Monohydrate - 500g - Opinie
UWAGA - kopiowanie oraz rozpowszechnianie opisów jest zabronione przez Muscle Power © 2018. Ustawa z dnia 4 lutego 1994 r. o prawie autorskim i prawach pokrewnych (Dz. U. z 2006 r. Nr 90, poz. 631 z późn. zm.)