MP GENERATION Worek Sportowy MP - Black Friday - Opis
Practical




Made of high quality material




Signed with the Muscle Power logo




Optimal capacity
Make life easier with practical solutions
Are you busy? Is your private life intertwined with the profession you are cultivating? If your car is full of supplements that you constantly lose and excess responsibilities make it difficult for you to organize, it's time to get practical gadgets.

The MP GENERATION sports bag will allow you to easily take your shoes with you for a change, a small sports towel, or Shaker - You really will take everything you need at the moment. Thanks to this you will have all the gadgets and nutrients at hand. Forget about the big training bags, which usually only take place in the locker room. The MP bag is lightweight, practical and stylish.

A strong drawcord guarantees that nothing in the bag will fly out. The 44/34 cm dimensions guarantee optimal capacity, while the high-quality material will make the sack serve you for a long time of satisfying use. Buying this bag can be the beginning of your adventure with the reorganization of life - for the better.
Minimalism always in fashion
The MP GENERATION sports bag has been made in a minimalist style. On the material in deep red, you will see only the logo of a reputable company - Muscle Power, selling your favorite sports nutrition. The simple design of the bag will allow you to always have it with you - regardless of what you have dressed and what trends are currently prevailing. Minimalism is always on top.

All you have to do is get some simple accessories and trainings between work and home chores will not take you as much time as they have taken so far. Small money - a big step towards better organization. Check it yourself - the number of MP GENERATION bags is limited!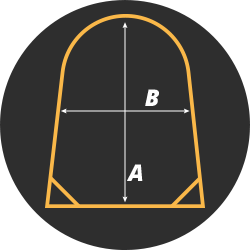 Length (A) 44
Width (B) 34
MP GENERATION Worek Sportowy MP - Black Friday - Składniki
MP GENERATION Worek Sportowy MP - Black Friday - Dawkowanie
#Name

:

Worek Sportowy MP - Black Friday



MP GENERATION Worek Sportowy MP - Black Friday - Opinie
UWAGA - kopiowanie oraz rozpowszechnianie opisów jest zabronione przez Muscle Power © 2018. Ustawa z dnia 4 lutego 1994 r. o prawie autorskim i prawach pokrewnych (Dz. U. z 2006 r. Nr 90, poz. 631 z późn. zm.)