NOW Niacinamide 500mg (Vitamin B3 - Niacine) - 100caps - Opis
vitamin B3 (niacin) in the form of Niacinamide
it does not cause erythema and a feeling of a wave of heat
no effect - flush
necessary for DNA stability
plays an important role in the production of cellular energy
natural cofactor of cellular energy
good condition of skin and hair
proper functioning of the nervous system
support for psychological functions
eliminating the feeling of tiredness and fatigue
500 mg of vitamin PP in one capsule
a product free of Gluten, Soy and GMO - Gluten Free, Soy Free, Non GMO
contains 100 individual portions of the product!
the highest quality - Vitamin B3 from the renowned NOW FOODS brand
NOW FOODS - Niacinamide - 500mg
Niacinamide 500mg of the renowned American brand NOW FOODS contains high-end vitamin B3 commonly known as Niacin or vitamin PP. This version is in the form of pure Niacinamide, it means that it does not cause a characteristic effect called FLUSH - there is no erythema or heat wave. This is the case with the supplementation of vitamin B3 in the form of nicotinic acid. Niacinamide 500mg supplement does not contain gluten substrates - GLUTEN FREE - so it can be easily eaten by people on gluten-free diets, Paleo, Samurai diet or people with intolerances. In addition, the product was labeled NON GMO and SOY FREE. The highest quality and purity of ingredients is guaranteed by the GMP certificate. Vitamin B3 (PP) plays an important role as a cofactor used by the body to produce cellular energy and stabilize cellular DNA synthesis. Niacinamide form converts to bioactive forms of NAD +, NADH, NADP and NADPH. The packaging of the supplement contains 100 individual portions of the product suggested by the pauucer.
Niacin - Vitamin B3 - PP - Properties
Niacin is vitamin B3 or PP. This is a joint description of two chemical compounds that are the source of Niacin: nicotinic acid and its amide, the so-called nicotinamide. As the only of the B vitamins can be synthesized in the body with the essential amino acid - tryptophan. However, the human body is able to produce a very small amount, which is why its basic source should be food and dietary supplements. Niacin is involved in the metabolism of macronutrients, is responsible for the release of cellular energy, participates in the production of red blood cells, may well stabilize cholesterol, dilates blood vessels and arteries, is undoubtedly a positive response on the nervous system and can improve blood circulation, thus nourishing the skin and hair . Toning, therefore, problems with sleep, and sleeping well worth it to throw an additional supplement melatonin or tryptophan.

The main source of vitamin B3 in the diet are yeast, legumes, soybeans, peanuts, almonds, fish, dairy products, meat, buckwheat, whole wheat flour and tomatoes.
Increasing the level of growth hormone - HGH
Niacin belongs to the natural strong precursors of growth hormone. This has been confirmed by numerous scientific studies conducted by American scientists whose results are found, among others here oraz here. Appropriate supplementation with vitamin B3 is able to raise the level of endogenous growth hormone by up to 40 percent. However, one should remember about the size of the dose, because the excess can adversely affect the body - especially the liver. The normal effect accompanying niacin supplementation is skin erythema and hot flush. This effect will result in a dose of 500 mg taken on an empty stomach. At the same time, the concentration of growth hormone will increase.

A pilot study on the influence of niacin on the concentration of free fatty acids and growth hormone in obese children:

https://www.ncbi.nlm.nih.gov/pmc/articles/PMC5360541/

Niacin supplementation at specified doses had an effect on the concentration of growth hormone. Growth hormone levels did not increase significantly after administration of 250 mg or 500 mg every 2 hours, but increased significantly with administration of 500 mg every hour. The average GH concentration for people receiving 500 mg every 1 hour was 2.9 ng / dL. One of the study participants reached a concentration of> 7 ng / dL.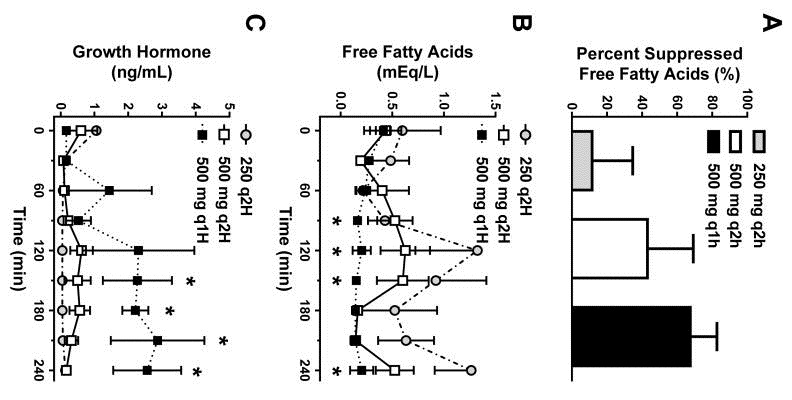 Niacin - Vitamin B3
Niacin contributes to the maintenance of normal energy metabolism
Niacin helps in the proper functioning of the nervous system
Niacin helps to maintain healthy skin
Niacin helps in maintaining the proper condition of mucous membranes
Niacin contributes to the reduction of tiredness and fatigue
Niacin helps to maintain normal psychological functions
NOW FOODS - 

Renowned Brand from the USA
The perfectly known brand NOW FOODS appeared on the market in the second half of the last century - in 1968.
In the 21st century, it is an unrivaled leader in the industry of natural and health-promoting supplements.
Even when healthy foods and natural supplements were not mainstream on the market, NOW FOODS remained faithful to its mission.
The American manufacturer has always provided the highest quality products that allowed people to lead a healthier life.
In 2018, the company celebrated its 50th anniversary!
The rich offer of NOW FOODS includes a number of health-promoting products from vitamins and minerals, through plant extracts, enzymes and ending with bacteria and probiotics - of various forms - liquid, tablets, capsules, vegan capsules, soft gel softgel capsules and lozenges.
Portion: 1caps
Servings per container: 100
Packaging: 100caps
Ingredients: gelatin (capsule) and magnesium stearate (vegetable origin).

The product does not contain wheat, gluten, soy, milk, eggs, fish, crustaceans and nuts. Manufactured at the GMP plant, which processes other ingredients containing these allergens.
| Active ingredients | in 1 servings | **RI% |
| --- | --- | --- |
| Niacine (Niacinamid)(Vitamin B3) | 500 mg | 3125% |
** - Reference intake value for an average adult (8400 kJ / 2000 kcal)
* - Ingredients, grammage and nutritional values may vary slightly depending on the flavor variant and / or batch of the product.
Consume one capsule a day preferably with a meal.
Dietary supplements can not be used as a substitute for a varied diet.
Remember that only a healthy lifestyle and balanced nutrition ensure proper functioning of the body and maintain good condition.
Do not exceed recommended servings for consumption during the day.
The product can not be used by people who are allergic to any of its components.
Keep out of the reach of small children.
Store in a dry place at room temperature in tightly closed containers.
Best before end: date and batch number is on the side / bottom of the package.
Net weight: 100cap
s
NOW Niacinamide 500mg (Vitamin B3 - Niacine) - 100caps - Składniki
NOW Niacinamide 500mg (Vitamin B3 - Niacine) - 100caps - Dawkowanie
#Name

:

Niacinamide 500mg (Witamina B3 - Niacyna) - 100caps



NOW Niacinamide 500mg (Vitamin B3 - Niacine) - 100caps - Opinie
UWAGA - kopiowanie oraz rozpowszechnianie opisów jest zabronione przez Muscle Power © 2018. Ustawa z dnia 4 lutego 1994 r. o prawie autorskim i prawach pokrewnych (Dz. U. z 2006 r. Nr 90, poz. 631 z późn. zm.)