IRON HORSE Iron Shape - 180caps - Opis
IRON HORSE SERIES - Iron Shape is a top quality product created especially for women who want to care for their form, beauty and energy and vitality. The supplement contains a number of valuable plant extracts and the most important vitamins and minerals for women.



Iron Shape is a complete product with multidirectional action. Regular Iron Shape supplementation will be an ideal support for regeneration processes, which in turn will favorably affect the skin's elasticity, condition of hair and nails. Plant extracts contained in the preparation will help in getting rid of excess water from the body, thus they can counteract the formation of new cellulite cells. This supplement also has a herbal mixture, whose individual components affect the stable course of the menstrual cycle of the woman, as well as are responsible for improving the mood during menstruation.

A suitably high amount of coenzyme Q10 and ALA will provide regeneration at the cellular level and a rejuvenating effect on every cell in the body. The content of L-Carnitine and Pu-Erh tea extract will undoubtedly enhance the desired effect during a slimming diet or reduction process.

In addition, Iron Shape contains such important minerals as iron and chrome as well as vitamins - folic acid and vitamins B1, B6 and B12.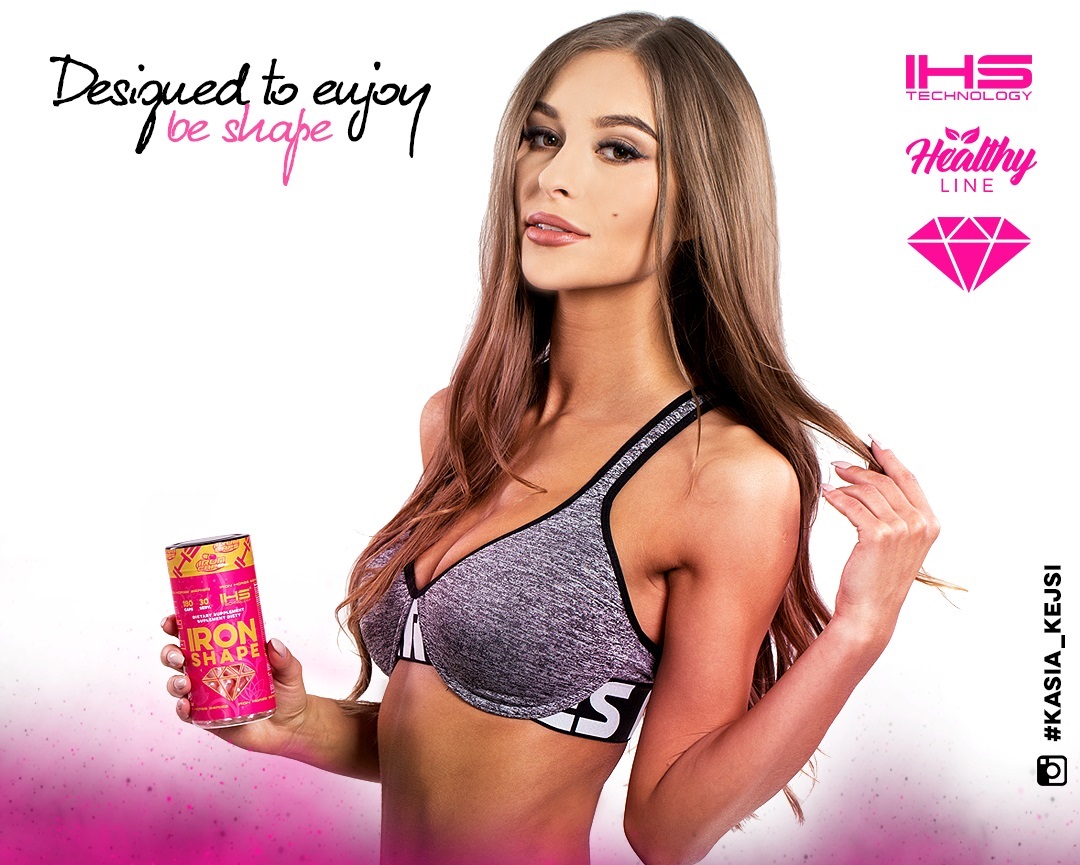 Portion: 6caps
Servings per container: 30
Packaging: 180caps
Ingredients: L-cysteine, L-carnitine, Pu Erh tea leaf extract, Indian Szenya ginseng root extract, diosmin, Kochaj root extract, St. John's wort extract, coenzyme Q10, alpha-lipoic acid, Pepper's Immaculate leaf extract, extract from Black elderberry fruit, Nettle root extract, parsley leaf extract, hesperidin, rutin, ferrous fumarate, pyridoxine hydrochloride, thiamine mononitrate, folic acid, chromium picolinate, cyanocobalamin, gelatin capsules, dyes: Allura Red, Candurin Silver Fine.  

| Active ingredients | in 1 serving (6caps) | **RI% |
| --- | --- | --- |
| L-Cysteine | 600 mg |   |
| L-Carnitine | 500 mg |   |
| Pu Erh extract | 400 mg |   |
| Ashvagandha | 400 mg |   |
| Hairy Yam Extract | 300 mg |   |
| Diosmin | 300 mg |   |
| St. John's Wort Extract | 200 mg |   |
| Coenzyme Q10 | 200 mg |   |
| Alpha Liponic Acid (ALA) | 200 mg |   |
| Chasteberry Extract | 200 mg |   |
| Parsley leaves extract | 150 mg |   |
| Hesperidin | 150 mg |   |
| Rutin | 150 mg |   |
| Elderberry extract | 150 mg |   |
| Nettle Root Extract | 150 mg |   |
| Iron | 14 mg | 100% |
| Vitamin B1 | 1,1 mg | 100% |
| Vitamin B6 | 1,4 mg | 100% |
| Folic Acid | 200 µg | 100% |
| Chromium | 80 µg | 200% |
| Vitamin B12 | 10 µg | 400% |
** - Reference intake value for an average adult (8400 kJ / 2000 kcal)
Consume twice daily between meals after 3 capsule with a glass of water. Do not exceed the recommended daily dose (6 capsules).

Dietary supplements can not be used as a substitute for a varied diet. Remember that only a healthy lifestyle and balanced nutrition ensure proper functioning of the body and maintain good condition.

Do not exceed recommended servings for consumption during the day. The product can not be used by people who are allergic to any of its components. Keep out of the reach of small children. Store in a dry place at room temperature in tightly closed containers.

Best before end: date and batch number is on the side / bottom of the package.

Net weight: 180caps
IRON HORSE Iron Shape - 180caps - Składniki
IRON HORSE Iron Shape - 180caps - Dawkowanie
#Name

:

Iron Shape - 180caps

Data Ważności

:

2020-11-22



IRON HORSE Iron Shape - 180caps - Opinie
UWAGA - kopiowanie oraz rozpowszechnianie opisów jest zabronione przez Muscle Power © 2018. Ustawa z dnia 4 lutego 1994 r. o prawie autorskim i prawach pokrewnych (Dz. U. z 2006 r. Nr 90, poz. 631 z późn. zm.)