FARMA BIAŁKA 100% Liquid egg protein - 1000g - Opis
High quality food product
Pasteurized liquid protein
A rich amino acid profile
It works perfectly in the kitchen
The only egg protein in Poland that is fully shelf-life up to 7 days after opening
FARMA PROTEIN 100% Liquid egg protein
Your goal is to deliver high quality egg whites to the body in the most natural form? Do you want to consume products rich in essential nutrients? In that case, it is worth investing in high quality 100% Liquid egg protein created by a reliable and modern company FARMA PROTEIN. This product is completely safe, rich in nutrients and healthy.
Chicken protein - a rich source of nutrients
Nowadays, every conscious person reads product labels, nourishes himself healthily and reasonably. Not only for the sake of maintaining a slim figure, but above all to take care of the health of the whole body. For this reason, it is also worth following a balanced, individually tailored diet. The next step is to choose the right ingredients.
It is definitely worth starting to use chicken proteins - these are healthy and natural sources of valuable proteins. They do not contain fats, are ideal for a post-workout gym, are low in carbohydrates, which is especially important when you try to reduce body fat. In egg white you will also find important nutrients.
Due to the poor amount of fats and carbohydrates, egg white is highly valued among active people. The 100% Liquid Egg Protein product is an ideal addition to pre-workout nutrients, but can also be used successfully for cakes, omelettes, scrambled eggs or other delicacies. FARMA PROTEIN made sure that you always have this ingredient at hand by closing it in a handy bottle.
Why choose Białka Farm?
The products of this company do not contain additives and preservatives. The bottle contains 100% egg protein.
Egg whites are rich in many invaluable nutrients of high quality.
Egg whites contain all essential exogenous amino acids that the body can not produce itself.
Thanks to the natural protein pasteurization, you can easily eat them raw or add to protein shakes. There is no risk of salmonella.
Liquid egg protein contains a very small amount of fats and sugars.
The perfect addition to the diet for people who are slimming and fighting fat tissue.
Egg whites are ideal for many dishes, they definitely facilitate cooking.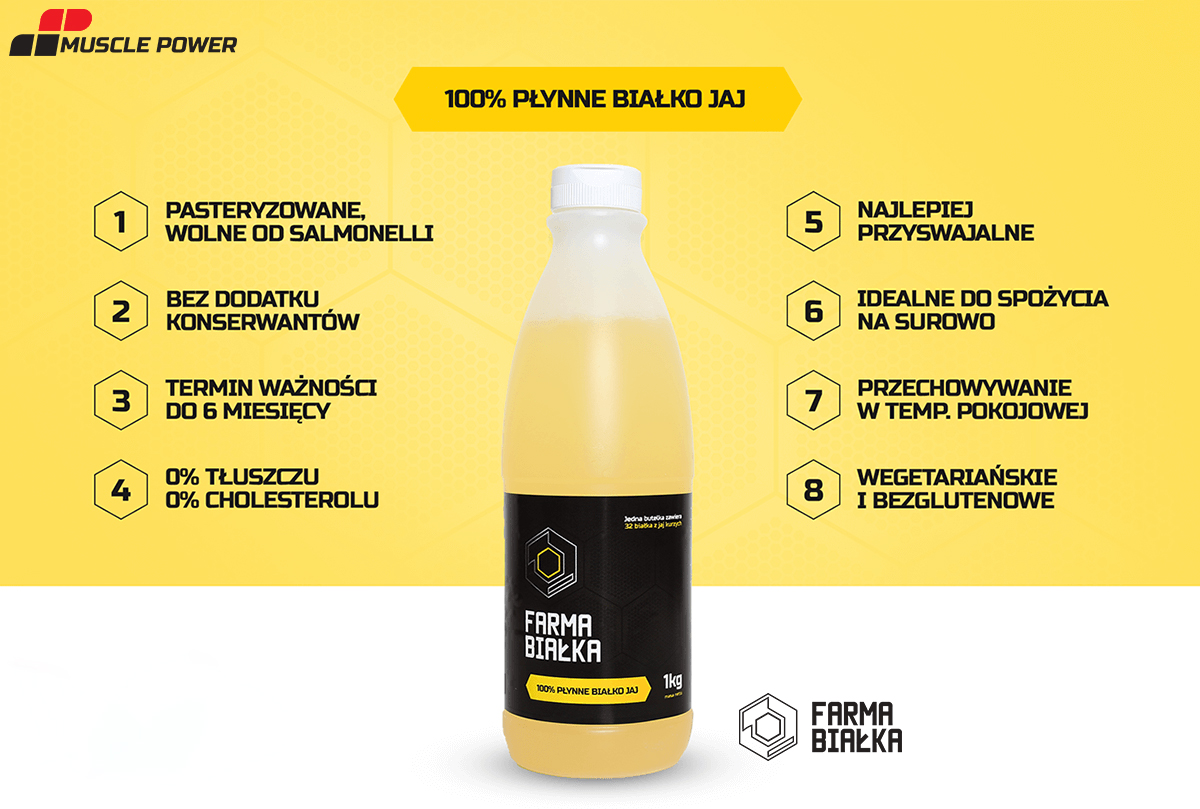 Chicken protein from Farma Białka
100% Liquid Egg Protein is the highest quality pasteurized chicken egg protein, ready for consumption in a bottle containing up to a kilogram of this ingredient. You will not find any additives, preservatives or dyes in it. This type of protein is characterized by excellent absorption, it contains a very small amount of fats and carbohydrates. You should know that the eggs from which the protein originates have the class A, i.e. the hens are bred by litter breeding. This means that when you buy a product from a protein farm, you support a good life of chickens who do not have to suffer in a tight cage. After all, happy hens endure healthier eggs.
You should also know that liquid chicken egg protein comes from farms run according to European Union standards, is pasteurized - you can eat it directly, easily whip it, it is easy to use - you do not have to break the egg and separate the egg whites from yolks. In addition, the product has durability before opening up to 6 months, and after opening you can use it for 7 days - keeping them in the fridge. Product from Protein Farm is patented, 100% natural and provides you with energy for the day.
Recipe for Orange pancakes
One whole egg
100 ml Protein Protein proteins
A quarter teaspoon of salt
130 g of wheat flour
250ml milk
Juice squeezed from one orange
Skin peeled from half orange
One teaspoon of baking powder
One tablespoon of sugar, e.g. coconut
1 tablespoon of oil
Mix all ingredients except the oil you use to grease the pan. Stir until you reach a homogeneous mass without lumps. Pour the tablespoon of the mass evenly into the pan, fry on both sides. Pancakes eat with additives, for example: white cheese, jam, syrup or nutella.
Serving size: 30g
Servings per container: 33
Packaging: 1000g
Ingredients: 100% pasteurized protein from chicken eggs
| Nutritional value | w 100 g |
| --- | --- |
| Energy value | 209 kJ / 50 kcal |
| Fat | 0,5 g |
| of which saturated acids | <0,1 g |
| carbohydrates | 1,1 g |
| including sugars | 1,1 g |
| Protein | 10,2 g |
| salt | 0,4 g |
*** The nutritional values given in the table may vary slightly depending on the lot. The site is constantly updated, however, it happens that we have several batches of product in stock.
** Reference intake value for an average adult (8400 kJ / 2000 kcal)
* Ingredients, grammage and nutritional values may vary slightly depending on the flavor variant of the product.
One serving - 30 g egg whites corresponds to one egg of the average weight class. The product can be consumed raw or after heat treatment. Shake before use. Consume according to individual needs.
The product can not be used by people who are allergic to any of its components. Keep out of the reach of small children. Store in a dry place at room temperature in tightly closed containers.
Best before end: date and batch number is on the side / bottom of the package.
Net weight: 1000g
FARMA BIAŁKA 100% Liquid egg protein - 1000g - Składniki
FARMA BIAŁKA 100% Liquid egg protein - 1000g - Dawkowanie
#AVG

:

5

#Name

:

100% Płynne Białko Jaj - 1000g

Data Ważności

:

2020-05-31



FARMA BIAŁKA 100% Liquid egg protein - 1000g - Opinie
UWAGA - kopiowanie oraz rozpowszechnianie opisów jest zabronione przez Muscle Power © 2018. Ustawa z dnia 4 lutego 1994 r. o prawie autorskim i prawach pokrewnych (Dz. U. z 2006 r. Nr 90, poz. 631 z późn. zm.)