GASPARI NUTRITION Super Pump Max - 480g - Opis
Super Pump Max is the maximum nitrogen pump - total muscle gain!
Super Pump Max is a powerful nitrogen booster combined with BCAA amino acids and two forms of Creatine. This comprehensive pre-workout from the USA provides up to 4 g of Leucine and 4 g of Citrulline in 2 portions. The action is enhanced by energy Caffeine, Tyrosine and Glucuronolactone.
Have you ever missed the right pump? Have you not noticed the progress in strength for a long time?
Super Pump has been developed and optimized for best performance ingredients contained in it! Surname Rich Gaspariego guarantee the highest quality and carefully selected formula. Ultra powerful set of components to support an increase in strength and strength endurance.
American nitrogen booster provides full blood flow, oxygenation and nutrition of the muscle. It contains branched chain amino acids BCAA protects muscle cells from decay. Creatine Monohydrate, Magnesium Creatine chelate ensures total increase in strength and cell hydration.
Thanks to Super Pump Max, jerking over 100 kilograms per chest will no longer be a problem!
Powerful pumping up of the muscle - with each workout, another kilograms per standard
powerful muscle pump -

 

Booster nitric

comprehensive pre-workout
advanced ingredient set

agitation, energy and focus on training

full blood supply and nutrition of the muscle
increase in strength and endurance
anti-catabolic effects -

 

protection of muscle cells

addition of vitamins and minerals

the highest quality

 

of Gaspari Nutrition
30 portions in the package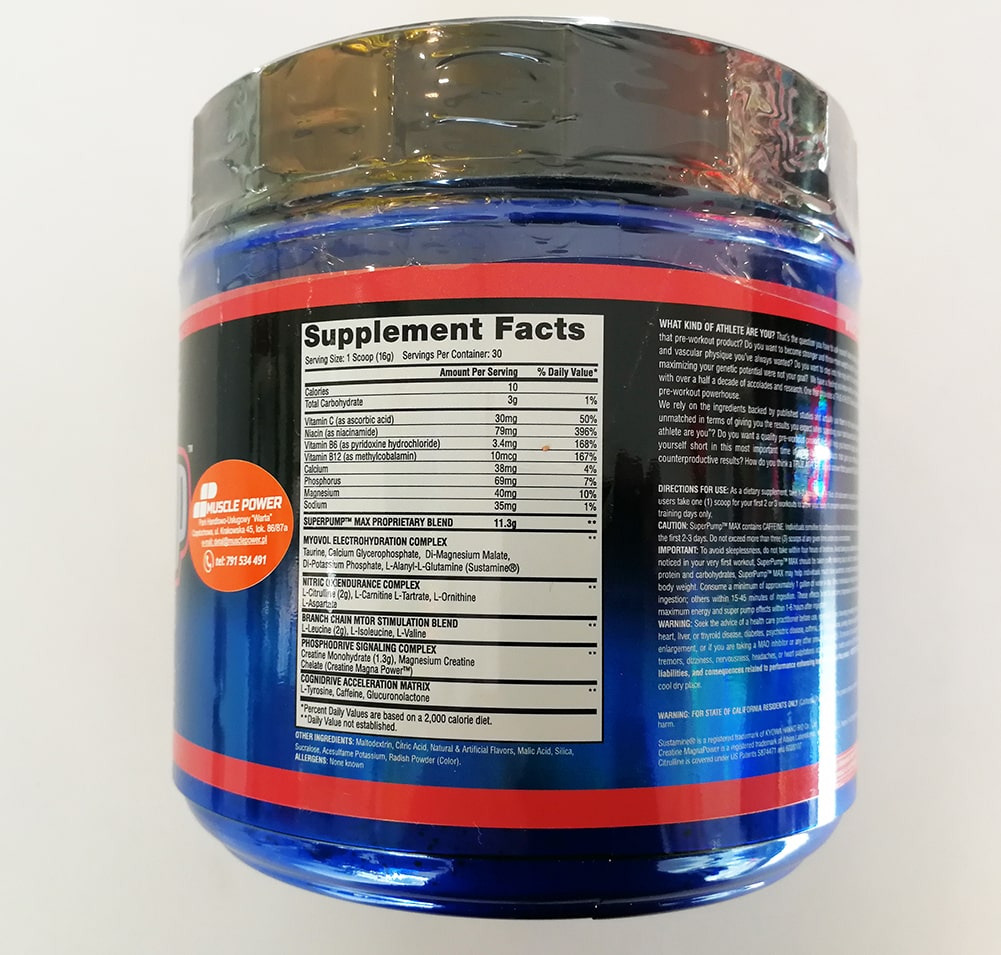 Advanced pre-workout with two forms of Creatine, 4 g Citrulline and 4 g Leucine!
Years of work in the gym, with professional experience Bodybuilding possible to create a phenomenal product. Rich Gaspari has developed the most advanced pre-workout formula Super Pump. Booster nitric combined with creatine, BCAA, carnitine and complex energy .
Super Pump has a powerful blend of 11.3 g acting at all levels. To 2 g of the pumping citrulline, ornithine and combined with 2 g of leucine to glutamine anticatabolic . Matrix Energy with caffeine, tyrosine and glucuronolactone neurotransmitter.
A new generation pre-workout from GASPARI that will lift your training to the next level. Natural stimulants for explosive training along with pumping ingredients, such as Citrulline. Creatine for generating incredible power and BCAA for better muscle regeneration.
There is no doubt that Super Pump Max optimizes training thanks to effective doses. A valuable complex of carbohydrates and electrolytes gives rapid glycogen resynthesis. Super Pump Max also contains vitamins and minerals necessary for regeneration.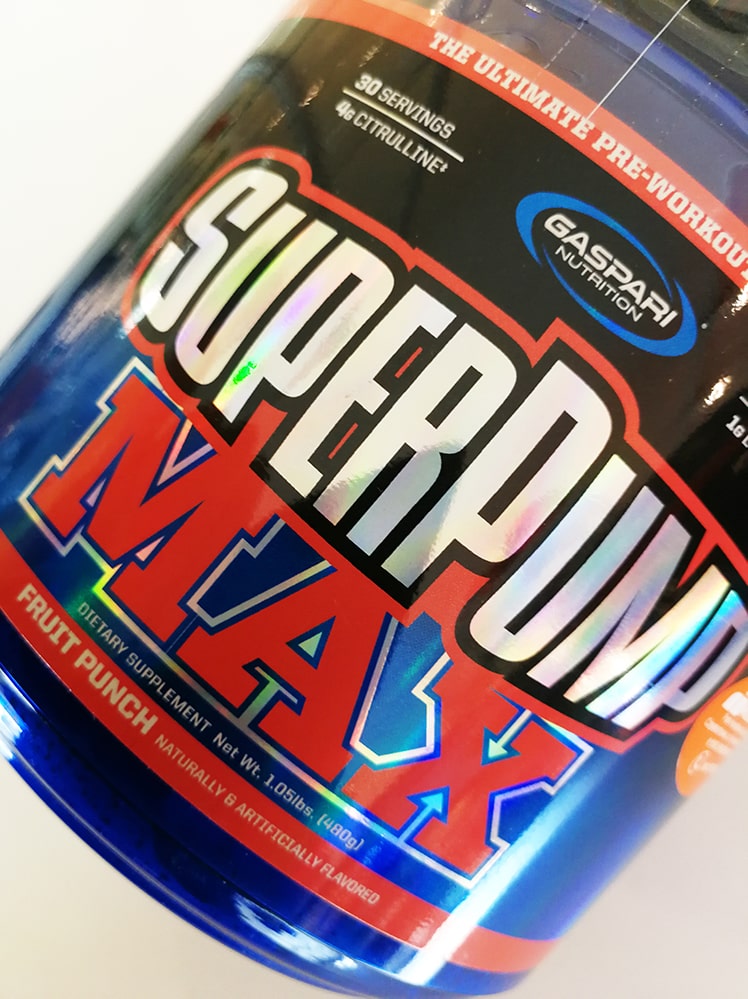 If you want huge gains in strength from your nearest workout - buy Super Pump Max now!
From Muscle Power you get the best prices on the market for original GASPARI products. And our loyalty program allows you to exchange products for points and greets customers with discounts. Muscle Power is a long-term presence on the market of nutrients and supplements in Poland and in the world.
Portion: 16g
Servings in the package: 30
Packaging: 480g
Ingredients: maltodextrins, citric acid, natural and artificial flavors, malic acid, silica, sucralose, acesulfame K, beetroot red (dye).
This product is not intended to diagnose, treat, cure or prevent any disease
Active ingredients
in 1 serving (16g)
** RWS%
Energy value

10 kcal / 42kJ

 
Carbohydrates

3g

1%

Vitamin C (ascorbic acid)

30mg

50%

Niacin (Niacinamide)

79mg

396%

Vitamin B6 (Pyridoxine Hydrochloride)
3,4mg

168%

Vitamin B12 (methylcobalamin)
10mcg

167%

Calcium

38mg

4%

Phosphorus
69mg

7%

Magnesium
40mg

10%

Sodium

35mg

1%

Super Pump MAX - Proprietary Blend
11,3 g
 
MyoVol Electrohydration Complex:
 
 
l-taurine, calcium glycerophosphate, sodium glycerophosphate, dimagnesium malate, dipotassium phosphate, L-Alanyl-L-glutamine (
Sustamine®)
 
 
Nitric Oxiendurance Complex:
 
 
L-citrulline (2g), L-carnitine tartrate, L-ornithine l-aspartate
 
 
Branch Chain mTOR Stimulation Blend:
 
 
l-leucine (2g), l-isoleucine, l-valine
 
 
Phosphodrive Signaling Complex:
 
 
Creatine Monohydrate (1300 mg), Magnesium Creatine Chelate (MagnaPower®)
 
 
Cognidrive Acceleration Matrix:
 
 
L-Tyrosine, Caffeine, Glucuronolactone
 
 
*** The nutritional values ​​given in the table may vary slightly depending on the lot. The site is constantly updated, however, it happens that we have several batches of product in stock.
** Reference intake value for an average adult (8400 kJ / 2000 kcal)
* Ingredients, grammage and nutritional values ​​may vary slightly depending on the flavor variant of the product.
How to use: Mix a portion with 250 ml of water or juice and consume 30 - 40 minutes before training.
Dietary supplements can not be used as a substitute for a varied diet. Remember that only a healthy lifestyle and balanced nutrition ensure proper functioning of the body and maintain good condition.
Do not exceed recommended servings for consumption during the day. The product can not be used by people who are allergic to any of its components. Keep out of the reach of small children. Store in a dry place at room temperature in tightly closed containers.
Best before end: date and batch number is on the side / bottom of the package.
Net weight: 480g
GASPARI NUTRITION Super Pump Max - 480g - Składniki
GASPARI NUTRITION Super Pump Max - 480g - Dawkowanie
Wariant

:

Fruit Punch

#Name

:

Super Pump Max - 480g

Data Ważności

:

2022-01-31



GASPARI NUTRITION Super Pump Max - 480g - Opinie
UWAGA - kopiowanie oraz rozpowszechnianie opisów jest zabronione przez Muscle Power © 2018. Ustawa z dnia 4 lutego 1994 r. o prawie autorskim i prawach pokrewnych (Dz. U. z 2006 r. Nr 90, poz. 631 z późn. zm.)